Join CheckSum at Productronica 2023, Munich, Germany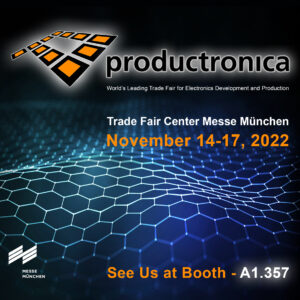 Productronica 2023 is Tuesday, November 14th – Friday, November 17th. Visit us at our co-located exhibit with our partner, Adaptsys Group in Booth A1-357.
Join us in celebrating Adaptsys 20th anniversary in business including daily activities and a scheduled VIP event.
CheckSum will be demonstrating our latest parallel test capabilities at the upcoming Productronica Trade Fair and Conference, in Munich, Germany, November 14-17th, 2023.
The 12KN Off-Line test system and ILS-3000 in-line test system support the complete suite of CheckSum's test capabilities for ICT, ISP and PFT (Parallel Functional Testing). Designed for high volume PCBA panel testing applications, the 12KN and ILS-3000 utilizes our advanced communication architecture enabling more testing in one fixture, with CheckSum's breakthrough Parallel Test technologies.
Register for Productronica:
https://lnkd.in/gCzp7Nj